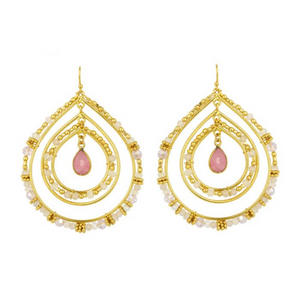 Aveline Earrings in Pink
Regular price $65.00 Sale
Ashiana London
Hand-crafted with pink jade, moonstone and gold-plated beads – these oversized earrings feature pink jade teardrop gemstones. From our La Femme Nomad collection, each piece is inspired by the writer and explorer Gertrude Bell, who helped to shape the Arabic world in the nineteenth century. The perfect statement earrings to match with occasion wear or your favourite maxi dress.
22 carat gold plated on brass

Hypoallergenic sterling silver earring hooks plated in 22 carat gold

2 mobile hoops, double teardrop frame

Pink jade, moonstone and gold-plated beads

Pink jade teardrop gemstone, delicately set by artisan jewellery makers

6 cm drop
About Ashiana:
Founder Anastasia Buisman finds inspiration whilst traveling the world and is a nomad in her own right: she has lived in over 8 countries & has travelled to over 100.  Her travel inspires each collection differently, drawing inspirations from each unique experience, this inspiration then translates into her designs each season. Each Ashiana piece is designed by Anastasia and her team in Bayswater, London. Here the team hold design meetings to carefully curate and create beautifully designed jewelery and accessories to bring style and happiness to your wardrobes from summer to all year long.
Ashiana believes and supports ethical and fair trading as well as female empowerment. The London office is made of an entirely female team and the management teams in India and China are led by women. The workshop in India adheres to fair and ethical trading standards and the team have become more of a family than a team.
Ashiana's focus on handmade gives local workers a chance to pass down century old traditions and practices and families a source of income that would be otherwise lost in today's world of automation and mass production.  Anastasia travels to India several times a year to personally source materials, suppliers and components that fit within their philosophy and fair trade practices. This hands on approach ensures that consistent checks are in place to ensure dedication to our commitment.